Batman Began!!!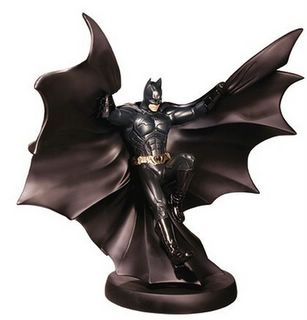 Caught up with
Batman Begins
on Thursday and in my opinion-I liked it.There were a number of places where the movie faltered but I believe that as a whole it was good.The movie starts of with Bruce Wayne experiencing another of his bat-infested nightmares.He finds himself in a cell in some god-forsaken country. The movie then goes onto recount how his father and mother died. It is interesting in the aspect that the batman movies that I have seen till today have never captured and illustrated the Wayne parents as much as this one did. I knew from what I have read and seen that the Wayne family was very well-known and very famous for their philanthropy.However it was interesting to see how they dealt with Sr. Wayne and his interactions with Bruce.It gave a brief but interesting insight into the father's heart.
It was also one of the darkest Batman movies I have seen in a long time.What we don't realise is that all the other super heroes had other motivating factors like Superman had a child-like delight when he discovered his powers while Spiderman was driven by the guilt of his uncle's death.Batman is the only super hero to have been driven by fear and used his fear and converted it into his most potent weapon.As Bruce Wayne sets about building an alternate identity, I did wonder as to how this will be dealt with, but credit has to be given to the director where he has again dwelt for a considerable bit on the research Bruce does and at the end of the movie there is no spanking Bat cave but just a make-shift foundation on which the real Bat cave will be built in the sequel.
The fight sequences could have been better orchestrated, the girl friend plays hardly any role but Michael Caine was the quintessential English butler-wise and cynical;just the way I like them.Morgan Freeman was wasted as an actor and the villain was average.
It was certainly interesting to see the internal conflicts within Bruce Wayne and his intensity showed well.At some level Batman is the superhero who is closest to being human and easiest to relate to because he is one super hero who made his weakness his strength.Lesson learnt.
Went for the movie with another blogger, Manoj.Read his review
here
.