Pune Highway-the Play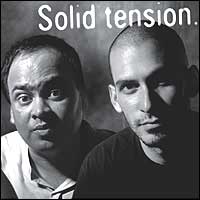 Bugs and Rehan Engineer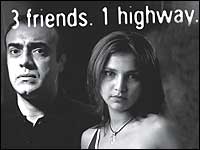 Rajit Kapur and Yamini Namjoshi in Pune Highway
Andheri Raaton mein, sunsaan rahon mein
Pune Highway came to Chennai and in keeping with Rahul da Cunha's earlier production,
Class of 84'
, promised to entertain. The setting- a drab and seedy hotel room with Bugs sprawled on the bed and Vish(Rehan Engineer) sitting on a stool. The hotel is located on the Pune Highway and at regular intervals one can hear the rush of a speeding vehicle. Enter- Promode(Rajit Kapur) and the play gets underway. Three friends together, Promode the married philanderer, Vish, the executive yuppie and Bugs, the insecure one with his st..tt...t...amer. These friends are holed up in a hotel because a friend of their's, Babu, has just been murdered and they have had to find a place to stay for the night and get their car repaired so as to make it back to Bombay. As they are holed up there, the tension of their friend's murder begins to crack them slowly and they react to this stress differently. It was a pleasure to watch Bugs with his stammer have a go at Promode. As they sit there and reconstruct the sequence of events that led to their friend's death, enters, a hotel employee alias Shankar Sachdev who was an amazing act. The sheer nonchalance with which he appraised these three people in the room and walked about dealing with them was a delight to watch and what with his entry-exit song humming such as the one I have mentioned in the start, was refreshing, to say the least.
Babu had borrowed money from some people and was not in a position to return the money and so the lenders track down Promode and make him bring Babu to the Pune Highway saying that all they wanted to do was "teach him a lesson" and consequently kill him. While this is happening, Promode is in the back of the car, having sex with a female friend of his, who also happens to be the daughter of an MLA. Her role in the play seemed more like an attachment that was put there for its own sake than for the sake of necessity. Her tantrums bordered on the irritating to the boring with the whole "Pramy" sequence, but Bugs' take on the whole Pramy thing was extremely enjoyable.
The play started off with the usual element of sarcastic humor puntuated with a number of choice words both in Hindi and English which gave it a more casual sound to it and it was also funny in places.However towards the later stages of the play, it became disengaging and continued that way till the end. There was no real suspense created about Babu's death and the ending was a disappointment. That... was Pune Highway.